'Never Miss a Monday': Ashley Bickerstaff
'I get up at 4 o'clock every morning and I go to bed very early.'
Real estate exec and lover of high-waisted leggings:
👩Ashley Bickerstaff, 48
🌎Greenville, SC
🖥️Vice president of business development
👗Personal stylist and self-defense class facilitator
👫Mom of two teenagers
☀️The routine: Up at 4 to work out, 7 days a week
👟Bootcamp, barre, and running
---
Ashley Bickerstaff is vice president of business development at Wilson Associates Real Estate. Other endeavors include Style Envy, her styling and personal image consultancy, and her work with Unified Self Defense, which teaches self-protection workshops to women and kids. Her 15-year-old daughter, Murphy, is a rising sophomore, and 19-year-old Neill is heading into a welding program at Greenville Technical College. Ashley's already packed professional calendar became heavier with parenting duties when she and her husband separated and then again in March when schools closed. Like every other working parent, she's holding her breath as schools finalize their teaching plans for the fall.
Her daily routine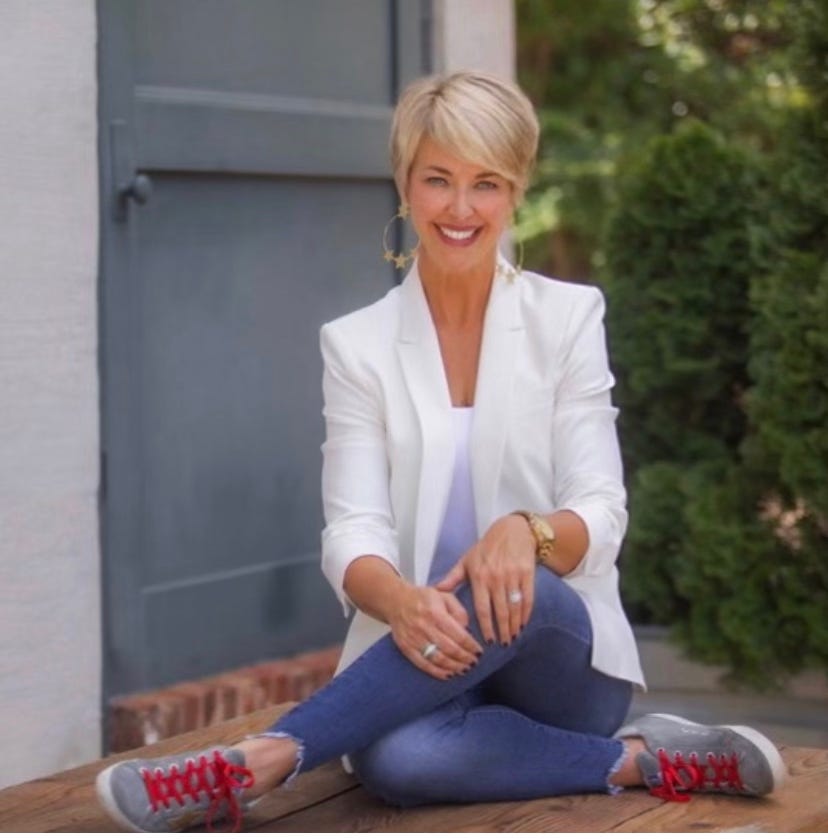 Photo: Josh Norris Studios
I get up at 4 o'clock every morning and I go to bed very early. That's what's allowed me to maintain my early workout routine for 25 years now. Even the days I'm not motivated, the discipline I've developed takes over for me.
I love working out with others, at Burn Boot Camp and at Pure Barre, which I've done for eight years now. I love the social part of it. When the pandemic hit, I got a bunch of weights and did streaming and recorded classes and I was able to maintain a great schedule, but it's just not the same. It wasn't the same level of performance you get in an in-person setting.
I've been back to boot camp and Pure Barre – which are both really great about distancing and keeping everyone safe – and I felt like I was starting from scratch. I wasn't pushing myself enough (at home). I need the trainers to really help me get it done.
Keeping up a 25-year exercise streak
I never miss a Monday, because that is what gives you the motivation to keep up with the rest of your week. Monday is a great restart day for all of us. I try to maximize those opportunities on Monday, rather than dreading it, so I look forward to it.
I have rheumatoid arthritis, which is an autoimmune disease, and when I was diagnosed 10 years ago, my greatest fear was that I wouldn't be able to keep active and find workouts that would allow me to sustain my level of activity. I work out every day, but I do take it easy one day, maybe do something at home. But to be able to continue at the level that I do, I have to do something every day.
What her mornings look like
I get up at 4 and have my coffee and look at emails or social media before I got to boot camp at 5:15 or for a run. Then I come home and have my second cup of coffee before I start my day.
I'm a big list maker, so I will give myself a 30-minute window and make one the night before or in the morning. I keep a written calendar; I'm old-school. I've worked hard the last couple of years to give myself grace if I don't accomplish everything on my list; I'll just put it on the next day. I'm very results-oriented and get a lot of satisfaction from crossing that line through an item.
How her personal routine affects her family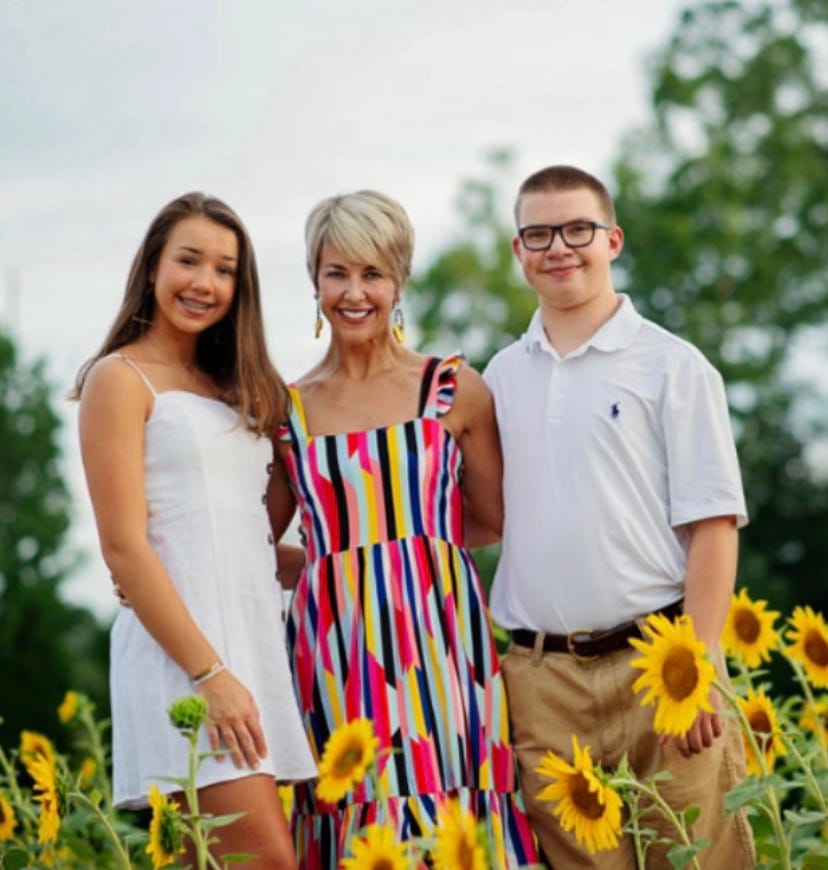 Photo: Wonderlight Kids Photography
There are a lot more moving parts in my life now, and my discipline has really helped me navigate them. We had to do a lot of regrouping this spring – Neill, who has exceptional needs, was working at Goodwill Industries but was let go due to the pandemic. He has a new job lined up now, at (grocery store) Harris Teeter. And Murphy's been babysitting three days a week this summer, which has given her a sense of purpose and a schedule. She is more of a visual, hands-on learner, so we're really hoping we'll have a formal school setting in the fall, safety permitting.
Children need schedules and guidelines, and I think that's been the secret to our success, especially during the pandemic, to ensure that they know what's expected of them and to give them a sense of stability.
One of the things that helps me juggle the seven billion parts is having a positive attitude every day and find the joy in every day. Some days when you put your head on the pillow, you're ready for that day to be behind you, but I really believe having a great attitude will get you a long way. And that's what I try to tell my kids – to try to find the bright light in every day.
What she outsources
Ironing. I'm happy to have someone else do my ironing for me. And healthy takeout. Restaurants doing curbside pickup have been a lifesaver.
---
Ashley's Health Stack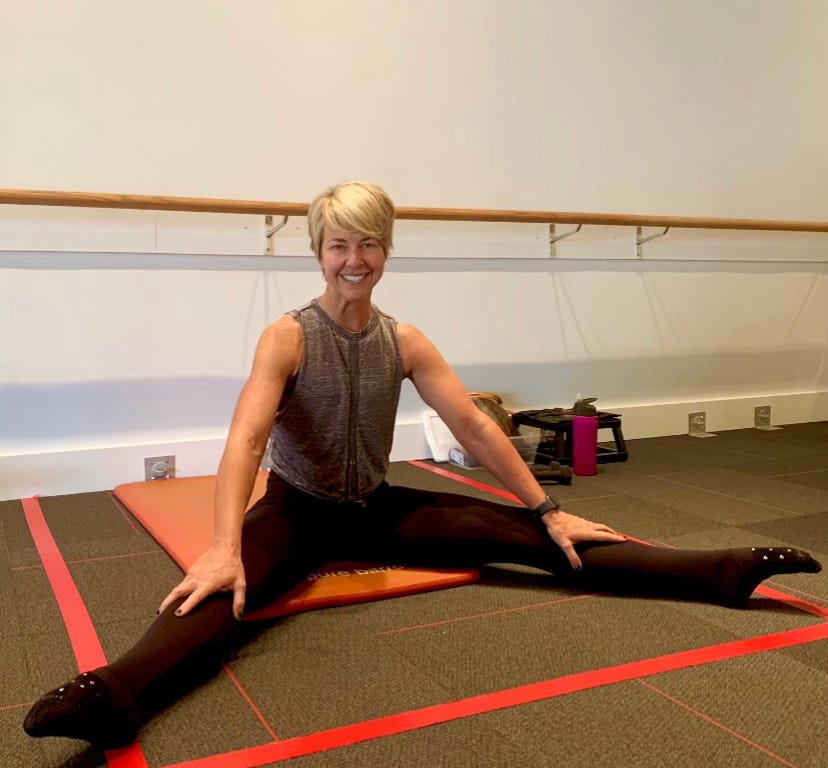 Nutrition:
I try to get at least 120 grams of protein per day. I achieve that goal through Muscle Milk protein shakes, lean meats, and veggies. That being said, I also love ice cream, Cheeze-Its, and an occasional Tito's drink.
Beauty:
I am not a big makeup girl. However, I am fastidious about applying sunscreen on my face and body. I use Obagi products for my skincare. They are expensive but worth it.
Fitness:
For my workout wear, I am a big fan of Athleta tops. I have a long torso. They are a great fit for me and good quality for "wash and wear." I have many pairs of SPANX activewear leggings in all lengths. The cropped length is most versatile. They are high-waisted and stay up during my bootcamp workouts. I also wear Diadora running shoes for my cardio workouts and running.
Sleep/Wellness:
I require a lot of sleep due to my autoimmune disease, rheumatoid arthritis. I try to get at least 7-8 hours per night. I am an early riser and typically do my quiet time (prayer/devotions) first thing in the morning. It gives me the right mindset for the day.

---
How did you feel about this post?
---
The Routine is written by Elizabeth Barr. How do you get it all done? Send your hacks, strategies, and links to beloved products to hello@mediavore.news.